2021 Harvest of Harmony
We've got the annual October show back on the calendar for October 9th this year. As of September 29, we are still moving ahead. We've got great guests, homegrown quartets and a full slate of chorus songs for the show.
We are pleased to welcome St. Croix Crossing as our special guests.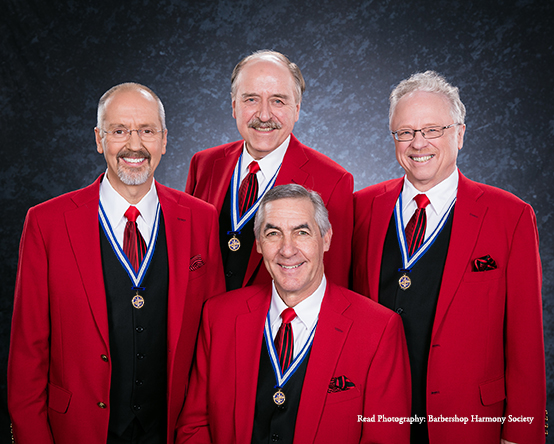 These guys are recent Champions of the Senior Bracket quartet contest, and more importantly, they put on a great show. The members all have strong musical backgrounds including well over 130 years of total barbershop experience. They've spent the last decade singing together, providing a variety of music in a very entertaining show. In addition to being the 2010 Land O' Lakes District Senior Champions, the District also honored them by inducting them into their Hall Of Fame. 2019 got off to a great start with a performance on the Grand Ole Opry stage in January, and they managed to get in a performance in Jacksonville , FL in 2020 before the pandemic ended everyone's performance seasons. Now that things are returning to normal, the quartet is scheduling shows again, and we're glad to host them here!
Also appearing is
Just One More an excellent quartet from the Twin Cities. They met as members of the Minneapolis Commodores, and discovered they fit well together and loved singing with each other. These guys have been singing together for the past five years, entertain audiences all over the area.
Unfortunately, Main Street, originally scheduled as our headliner had had to cancel for health reasons. Stay safe everyone.
Save October 9th, and return here for updates! Till then, enjoy some of the best from the Barbershop Harmony Society.



We'll see you as soon as we can! In the meantime, please have a look around.